Made from Gold metal, this handbag is embellished with colored stones on the front and back side of the bag
Code : RR001 - Embroidered Handbag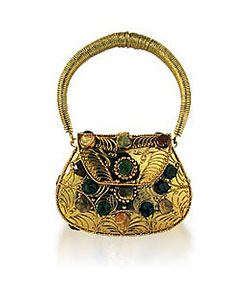 Gold oval shaped metal handbag encrusted with clear stones on the front side of the bag and the opening of the bag is from the top with a velvet lining
Code : RR002 - Ethnic HandBags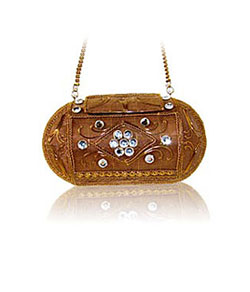 Inspired from the Bohemian culture, this bag is made from black canvas, with pearl-finished stones and black beads. It has embroidery on the front side and the bag closes on top
Code : RR003 - Embroidered Bohemian HandBags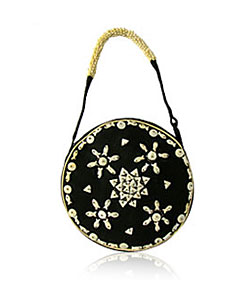 Finely crafted flowers out of gold metal with embroidery and red beads on aqua coloured Lycra fabric. The top and the bottom of the bag is made from faux leather. The handles of the handbag are made from gold metal chain twined with beads and stones
Code : RR004 - Embroidered HandBags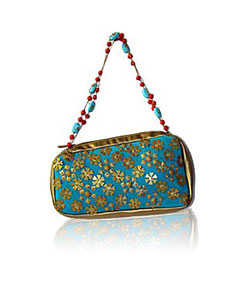 Beige Canvas Tote Bag embroidered with fine pearl beads embroidery on the front side of the bag with Ivory handles
Code : RR005 - Embroidered Tote HandBags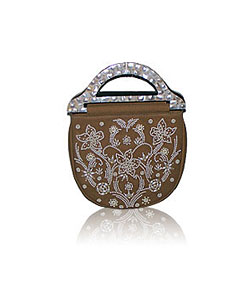 Brown handbag embroidered with antique gold pitta work and sequences with transparent oval stones. The handle of the bag is made from metal and transparent beads
Code : RR006 - Embroidered ethnic HandBags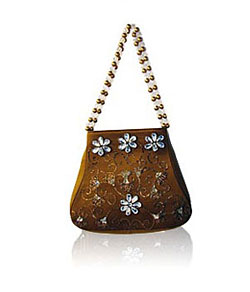 Inspired from the Mughal era this fine crafted handbag is made from blue raw silk with stunning Bead work with customized metal broaches on the front side of the bag with carved handles.
Code : RR007 - Embroidered ethnic HandBags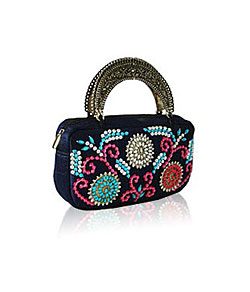 Made from Georgette Fabric embroidered with fine thread work, giving a touch of elegance and class. The sling is made from swarvoski glass beads.
Code : RR008 - Embroidered HandBags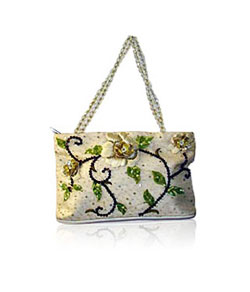 This handbag is inspired from the traditional Indian way of greeting people. The front and the back side of the bag is embroidered with silk thread, fine glass beads and sequences. The sling of the bag is made from fine glass beads and stones.
Code : RR009 - Embroidered Indian HandBags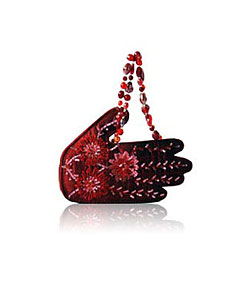 Yellow raw silk embroidered handbag with fine silk threads, metal beads on the front and side of the handbag. The handles are made from colorful glass beads and stones.
Code : RR0010 - Embroidered HandBags